Revision B1/B1+
End of the year and back-to-school grammar revision B1 B1+ intermediate lessons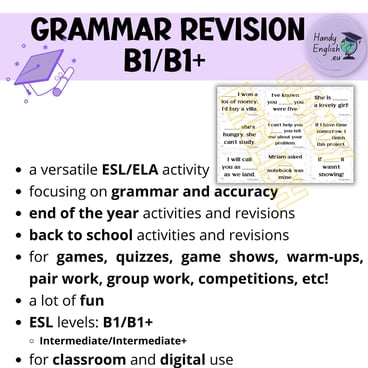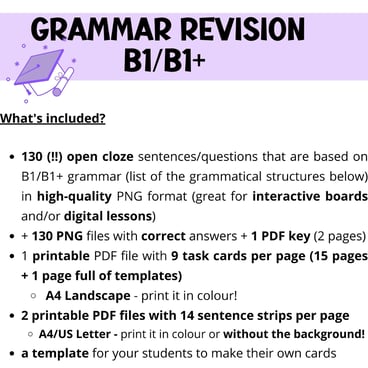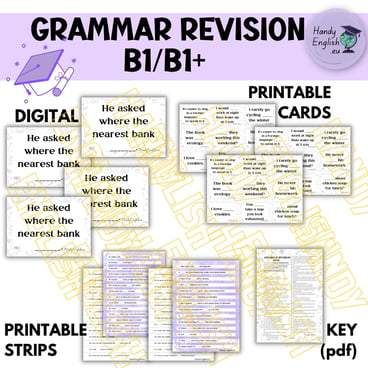 Have your students finished the school year but you are unsure if they haven't forgotten half of the material? Are Present Simple, Past Simple, Questions, Used to, Be going to, First Conditional, Second Conditional, Modal Verbs, Reported Speech, Passive Voice, Indirect Questions, Past Perfect, and other intermediate structures still confusing? Are you looking for a versatile end-of-the-year and back-to-school grammar activity? Do you want your students to review the level but also have fun? This revision comes to the rescue!
Please bear in mind that this is a revision, so the cards are in random order - more categories and levels are in the making (such as "present simple revision", "past simple revision", "modal verbs revision", and will be available in the store soon.)
Also Available: Revision A2/+
What is it?
a versatile ESL/ELA activity

focusing on grammar and accuracy

end of the year activities and revisions

back to school activities and revisions

for games, quizzes, game shows, warm-ups, pair work, group work, competitions, etc!

a lot of fun - for younger learners, teenagers, and adults!

ESL levels: B1/B1+Intermediate/Intermediate+

for classroom and digital use
What's included?
130 (!!) open cloze sentences/questions that are based on B1/B1+ grammar (list of the grammatical structures below) in high-quality PNG format (great for interactive boards and/or digital lessons)

+ 130 PNG files with correct answers + 1 PDF key (2 pages)1 printable PDF file with 9 task cards per page (15 pages + 1 page full of templates)

A4 Landscape - print it in colour!

2 printable PDF files with 14 sentence strips per page

A4/US Letter - print it in colour or without the background!

a template for your students to make their own cards
Grammatical Structures used:
several cards per structure

articles

past simple and past continuous

comparatives and superlatives

present simple and present continuous

adverbs of frequency

quantifiers

future simple and future continuous

going to

so, such, too, enough

used to

wishes and regrets: if only, I wish

advice and suggestions

present perfect

past perfect

zero, first and second conditional

unless, in case

the passive - mixed tenses

have/get something done

modal verbs

relative clauses

reported speech, reported statements, and indirect question