Grammar Revision A2/ A2+
End of the year and back to school grammar revision A2 A2+ pre-intermediate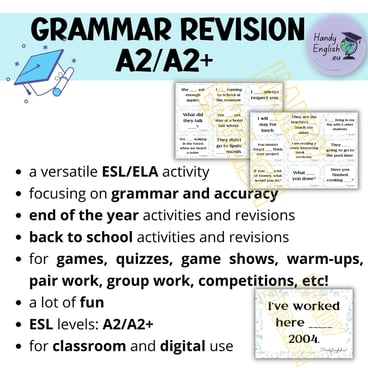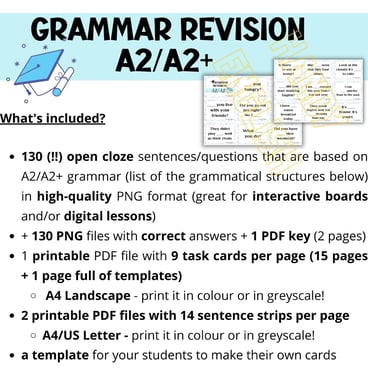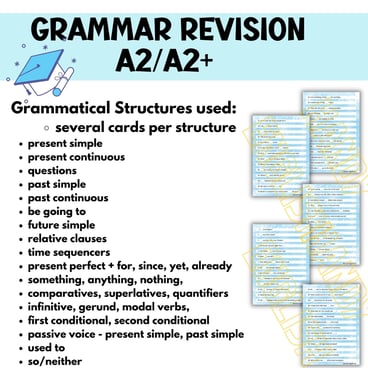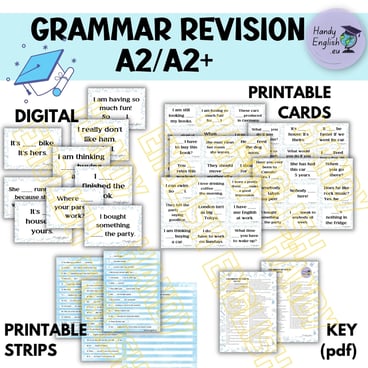 Have your students finished the school year but you are unsure if they haven't forgotten half of the material? Are Present Simple, Questions, Used to, Be going to, First Conditional, Second Conditional, Modal Verbs, Possessive Pronouns, Present Perfect, and other pre-intermediate structures still confusing? Are you looking for a versatile end-of-the-year and back-to-school grammar activity? Do you want your students to review the level but also have fun? This revision comes to the rescue!
Please bear in mind that this is a revision, so the cards are in random order - more categories and levels are in the making (such as "present simple revision", "past simple revision", "modal verbs revision", and will be available in the store soon.)
What is it?
a versatile ESL/ELA activity

focusing on grammar and accuracy

end of the year activities and revisions

back to school activities and revisions

for games, quizzes, game shows, warm-ups, pair work, group work, competitions, etc!

a lot of fun - for younger learners, teenagers, and adults!

ESL levels: A2/A2+

for classroom and digital use
What's included?
130 (!!) open cloze sentences/questions that are based on A2/A2+ grammar (list of the grammatical structures below) in high-quality PNG format (great for interactive boards and/or digital lessons)

+ 130 PNG files with correct answers + 1 PDF key (2 pages)

1 printable PDF file with 9 task cards per page (15 pages + 1 page full of templates)

A4 Landscape - print it in colour or in greyscale!

2 printable PDF files with 14 sentence strips per page

A4/US Letter - print it in colour or in greyscale!

a template for your students to make their own cards
Grammatical Structures used:
several cards per structure

present simple

present continuous

questions

past simple

past continuous

possessive pronouns

be going to

future simple

relative clauses

time sequencers

present perfect + for, since, yet, already

something, anything, nothing,

comparatives, superlatives, quantifiers

infinitive, gerund, modal verbs,

first conditional, second conditional

passive voice - present simple, past simple

used to

so/neither
All products are my original ideas. I create them with passion and care.Each lesson plan and activity is proofread and used in my classroom before being posted on TpT. However, if you find a mistake please let me know and I'll correct it as soon as possible.
Please contact me before leaving negative feedback, I'll assist you with your inquiries right away!
Do you like my products? What do you think I could do better? What kind of activities would you like to see the most?
Don't be shy, leave a comment!
Terms of Use:
This product can be used for educational purposes. It is strictly forbidden to copy, resell or share this activity without written permission from Handy English.