Who'd Win? Spring Edition
A fun and seasonal activity for creative speaking and writing!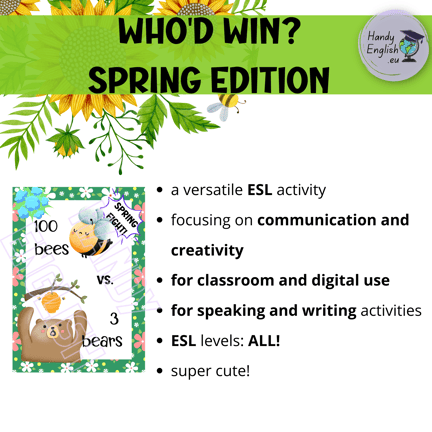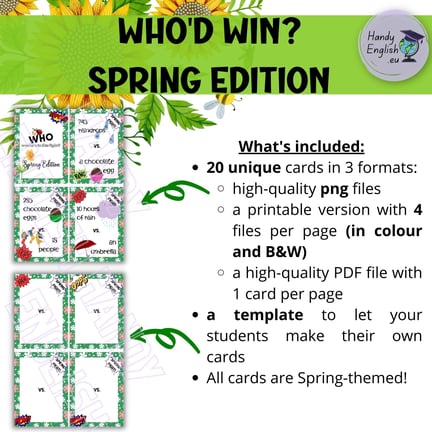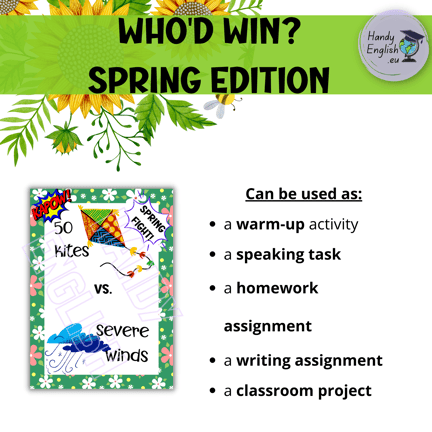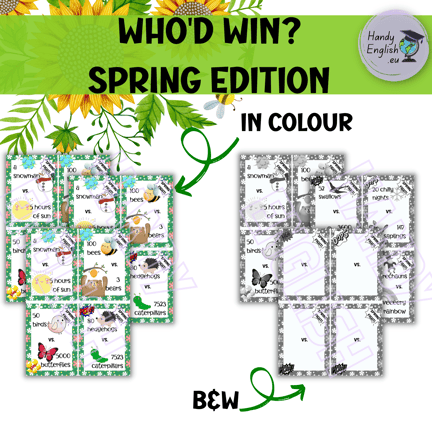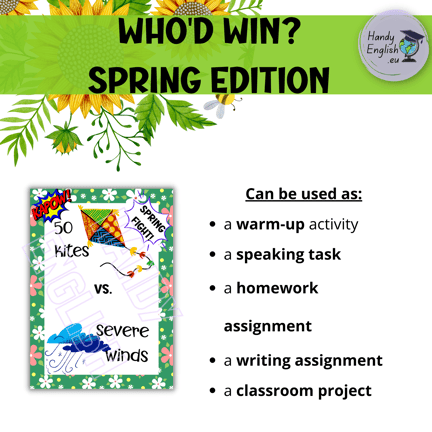 This activity is perfect for spring and Earth Day-themed lessons that focus on speaking, writing, and thematic vocabulary. It can be used with ELA and ESL students. It's perfect for young learners but can also be used with teenagers and adults - it all depends on the group!
Please note that this activity is supposed to be absolutely ridiculous and its main aim is to spark students' creativity; allow your students to use their knowledge of biology, physics, psychology, chemistry, and even magic!
What is it?
a versatile ESL/ELA activity

focusing on communication and creativity

for classroom and digital use

for speaking and writing activities

ESL levels: ALL!

super cute!
What's included:
20 unique cards in 3 formats (+1 cover):

high-quality png files

a printable version with 4 files per page (in colour and B&W)

a high-quality PDF file with 1 card per page
3 templates to let your students make their own cards

All cards are Spring-themed!
Aims of the activity:
to be as creative as possible

to use our knowledge from various subjects (biology, physics, etc)

one of my groups even calculated the density and speed of raindrops!
to practise giving opinions

to practise agreeing and disagreeing

to practise comparatives and superlatives

to have a lot of seasonal fun!!
Can be used as:
a warm-up activity

a speaking task

a homework assignment

a writing assignment

a classroom project
How about...