Story Cards: Travelling
Travelling ELA ESL Creative Task Cards for speaking writing, and vocabulary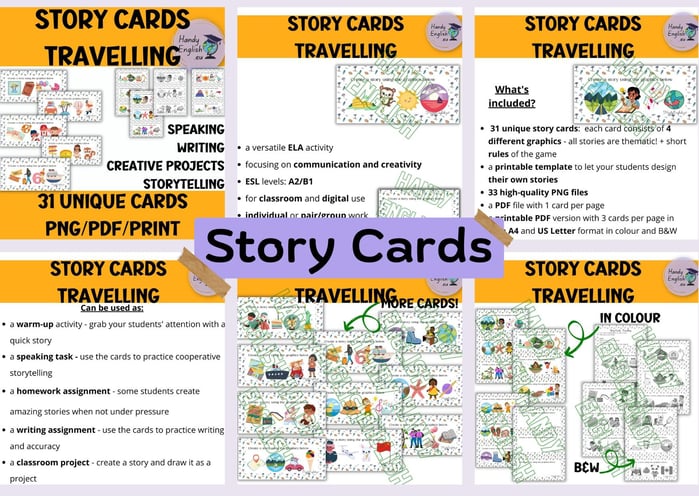 Story Cards are a great way to warm up a class! These storytelling task cards are perfect for travelling-themed lessons that focus on speaking, creative storytelling, communication, or even writing! No matter if it's a lesson that focuses on summer holiday, a vocabulary project, a creative writing workshop, or just a warm-up activity - use these cards to make your students use their creativity!
These travelling-themed story cards were added to my
What is it?
a versatile ELA activity

focusing on communication and accuracy

ESL levels: A2/B1 -> but can be used with more advanced students as well!

for classroom and digital use

individual or pair/group work

a lot of fun and super cute!
Can be used as:
a warm-up activity - grab your students' attention with a quick story

a speaking task - use the cards to practice cooperative storytelling

a homework assignment - some students create amazing stories when not under pressure

a writing assignment - use the cards as writing prompts to practice writing and accuracy

a classroom project - create a story and draw it as a project
Aims of the activity:
to review/learn thematic vocabulary, objects, and verbs

to be able to form longer sentences

to foster creativity and communication

to review grammar and practice accuracy

to have fun!
What's included?
31 unique story cards: each card consists of 4 different graphics - all stories are seasonal! + short rules of the game

a printable template to let your students design their own stories

a PDF file with 1 card per page

a printable PDF version with 3 cards per page

in both A4 and US Letter format

in colour and B&W