Take part in a creative challenge! *with prizes for everybody!*
Take part in the challenge and win creative prizes!
BLOG PLHANDY COMIC PAGESSTORY CARDSGENERAL EDUCATIONBLOGESLSPEAKING CARDSFREE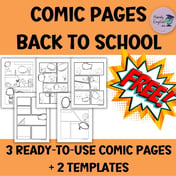 Are you looking for creative activities for Back-to-School, Seasonal, Autumn, Halloween, Christmas, Summer, Easter, and many other lessons?
This challenge might be for you!
It's a great way to make your students engaged and win creative prizes!
This challenge is mostly for younger learners but can be used with teenagers or even adults! (Story Cards for adults are on their way)
Rules:
Use my comic pages or story cards in your classroom or with your own kids

you can use free back-to-school comic pages if you are not sure if the paid product is for you! Some Sets of Story Cards will be shared for free from time to time - make sure you follow me on my social media!

have fun with your students

Take pictures of your students' work and send them to my e-mail (kaya@handyenglish.eu) or contact me via FB (info below)

Receive an individual set of 30+ Story Cards of your choice for free! (not a bundle!)

There is no lottery - everybody wins!

You can take part in the challenge only once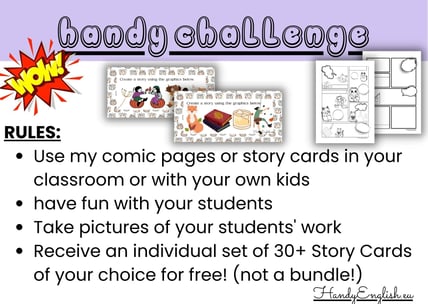 To receive the prize:
take pictures of at least 3 different projects (it can be the same page or the same story card but used by three people/groups)

by taking part in the challenge you agree for me to share your pictures on this blog/in my TpT previews and on my social media (I can tag you if you want!)

I will never use your pictures in a commercial way, it will only be used to show how my activities are used in the classroom.